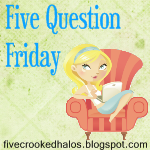 1. W
hat is a hobby you would love to learn and why?
2. W
hat do you wish you could have delivered to your house but does not deliver?
3.
What's your favorite snow day activity? Inside and out?
4.
Would you meet a stranger from an Internet dating site?
5. I
f you had to spend 35 hours in a car with 4 other people, who would you choose?
How would you answer today's Five Question Friday? Share in the comment section below!
Linked up at:
*-*-*-*-*-*-*-*-*-*-*-*-*-*-*-*-*-*-*-*-*-*-*