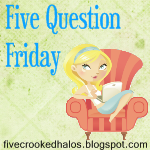 Vlog:
Blog:
1. What is your favorite book to read with your kids?
I don't have children at this time, and so I'm going to alter the question a bit so that it is something I can answer.
Alternate question- What is your favorite book you're reading?
I'm currently reading The Resolution for Women by Priscilla Shirer and Reluctant Entertainer by Sandy Coughlin. Both of these books are amazing. I highly recommend both of them if you haven't read them yet.
2. After having kids, what body part has changed the most?
Again, I can't exactly answer this question or alter it to be answerable. (If you would like to participate, then you're welcome to leave your answer to the question in the comment section. Just don't mention anything that would make me cringe at having kiddos myself. There are just some stories that should be shared with a woman pre-childbearing. lol! ;) ).
3. Would you ever go back to college? What would you study?
I attended college for several years, and then made the decision to pull out to pursue homemaking.
I wrote a previous post on my decision to trade college for homemaking.
I'm not opposed to ever going back, but if/when I do it needs to be for the right reasons. Right now my focus is on home, family and homemaking, and so college isn't in mind for now or the near future. If I did decide to go back at some point, though, I'd probably wish to study something along the lines of child and family science, early childhood education or something similar to home ec. I'd probably want something that would be along the line of my belief in the ability for the home and family to impact the community (by strengthening home and family the community is also strengthened). Application of this concept can also be carried out through homemaking. Perhaps down the road I may consider college again. We'll see.
4. How do you close a phone call? Bye, bye bye or other?
I'm pretty sure I just say "bye." On occasion I'll say "see ya."
5. What is the one food that will always be your "cheat food" on a diet?
Probably chocolate. I love chocolate and sweets in general. After the sweets we had in December and then in January for our birthdays, I'm thinking a sugar "diet" would be a good idea. I'll probably still have my chocolate though! I'm thinking of replacing loads of conventional chocolate with less quantity but higher quality (fair trade, organic, dark chocolate). This way, I can still have a little chocolate in the day but also get the benefits of the antioxidants and well..the fact that it's my happy place. hehe
How would you answer today's Five Question Friday? Share in the comment section below!
Linked up at:
-*-*-*-*-*-*-*-*-*-*-*-*-*-*-*-*-*-*-*-*-*-*-*-