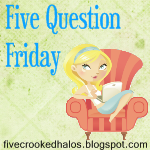 1.
Have you set any goals/resolutions for 2013?
Oh yes, I'm a goal setting kind of gal. You can find out all about my 2013 goals in this post.
2.
Have you made any travel/vacation plans for 2013?
We have yet to do an annual vacation. Instead, we'll take a week to travel to visit with family. Although, I'm sure it would be nice to also have a trip just to ourselves, we place family as a high priority in our life and so feel that a vacation spent with family is time off well spent. We've also determined to make the most of all of our time together throughout the year, and so don't feel as though we are missing out on some solitary relationship building time by not taking a vacation just to ourselves. So far, it's just what has worked well for us.
3.
What room is never cleaned in your house?
I feel like the kitchen is never cleaned! With the kitchen being used to prepare three full meals plus snacks each day it is a constant effort to keep it clean. That's what happens when ya cook, so it's not a bad deal when I consider the joy of serving my family with yummy foods.
4. W
hat food must be in your house at all times?
Fruit. I love fruit! Breakfast just doesn't seem complete without a bit of fruit. It also makes a great snack option, especially when I'm wanting something sweet.
5.
Are you a hugger or more of a hands off person?
If I'm really familiar or close in relationship with someone, then I'm a total hugger. If not, then I'm a strict hands off person. I'm generally also a non-hugger or at least a side-hugger when it comes to men other than my husband. That's just my personal preference.
How would you answer today's Five Question Friday? Share in the comment section below!
Have a great weekend! :)
-*-*-*-*-*-*-*-*-*-*-*-*-*-*-*-*-*-*-*-*-*-*-*-*-*-*-*-