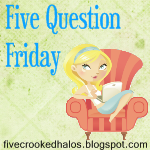 I had intentions to switch my planned posts for Thursday (yesterday) and Friday, but I didn't get the 5QF finished. So, that is why in the video I'm referring to this 5QF being done on Thursday even though I'm posting on Friday. Also, since I recorded yesterday before this week's questions were posted, I went back to last week's (1/10) questions. Perhaps I should just stick to my original post plans and not complicate things in the future! (haha). I've left it in video format for lack of time right now to type out my responses as well. Let me know if you'd rather see the text as well and I will add it later today. Enjoy!
Questions:
1. F

lu mist? Flu shot? Or take your chances?
2. D
o your kids have iPads? W
hat are some good educational apps? Price?
3.
What are your favorite boy/girl baby names?
4.
If an apple a day keeps the doctor away, which apple do you choose to eat?
(red/green, gala, red delicious...)
5.
What is your favorite place to escape to for peace & quiet, to think? Why?
How would you answer today's Five Question Friday? Share in the comment section below!
Have a great weekend! :)
-*-*-*-*-*-*-*-*-*-*-*-*-*-*-*-*-*-*-*-*-*-*-*-*-*-*-*-