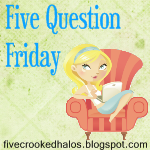 1.
Where do you hide junk when people come over?
Unless our guest will be staying in the second bedroom I have been known to use it as a place to quickly stash stuff. I really hate just tossing stuff in a room and closing the door just to have the place presentable enough for a guest. My goal is always to treat my home as if it always had an open door to anyone to come in at any time. It's a work in progress. haha
2.
Do political ads help you decide who you are going to vote for?
Political ads don't play too much of a role in my voting decision. Since we haven't had television, I miss a lot of the political ads. I find so many political ads to be merely mud-slinging. It's hard to figure out the truth from such tactics. I rely more on other resources in determining my vote.
3.
What's your favorite holiday party to host?
While my favorite season is fall and holiday is Thanksgiving, my favorite holiday party to host would be Christmas. Simple Christmas gatherings with friends and family are so much fun to me and really makes the season meaningful.
However, this year it may be Thanksgiving. My in-laws are hoping to be able to make a trip to come visit us around Thanksgiving time. It will be fun to share this holiday with them in our home.
4.
You go to an island with your husband and can only take one personal item.
What is it?
This scenario is a familiar one- it's like our wedding! Me + him + wedding attire. haha. If the scenario were to present itself again, then I don't really know what one item I'd take. Probably my Bible. I love quiet moments in the Word early in the morning. Add crashing ocean waves and I'm set! haha
5.
If you found out your spouse was a Dexter style serial killer (only kills people to save others) would you rat?
Ah, well one thing I do know is that I will not be watching "Dexter" any time soon. I knew the show had something to do with killing, and so prefer not to watch such content. The question is quite complex. It's the basic premise of whether the gain for the greater good justifies the means to achieving it. I remember circling this idea many times in my philosophy class in college (one of the best classes I took). Honestly, it's the topic of papers and would be too limited to dig into it in a quick 5QF question. Plus, I don't care to dwell on the idea of killing. Yes, I live in a bubble. haha
How would you answer this week's Five Question Friday? Leave your responses in the comment section below! Have a good weekend! :)
-*-*-*-*-*-*-*-*-*-*-*-*-*-*-*-*-*-*-*-*-*-*-*-*-*-*-*-