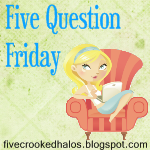 1.
Is there a special dish you prepare that you are famous for?
I search all year for a really cute food craft/project. This year I made colorful sugar cookies in the shape of leaves and some "acorns," and served them in a pretty basket. I also did a pumpkin pie with pumpkin leaf cutouts placed all around the edge. I would include a picture, but it all took so long that I skipped the picture taking and just focued on getting it done! haha.
2.
Are you (did you) go Black Friday shopping ?
Absolutely not! I'm not much of a shopper to begin with, so a mega-shopping day is not my idea of fun. Instead, I prefer to use that day to put up Christmas decor. Afterall the day after Thanksgiving offically begins the Christmas season. :)
3.
What are your strangest holiday traditions?
I don't believe I have any "strange" holiday traditions. In fact, I'm still trying to determine the ways of celebrating or traditions to be established within our family. We'll see how this year goes. :)
4. Pecan or pumpkin pie? (She actually asked "Apple or pumpkin?" I just T-
giving'ed
it!)
Pumpkin pie! It just seems so fitting at the Thanksgiving meal. I love pumpkin everything this time of year!
5. When will you put up your Christmas tree?
We just put our tree up! I will certainly enjoy many evenings gazing at the colorful Christmas tree. :)