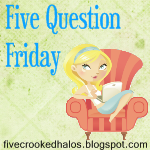 1.
Would you grow your hair out to donate it?
I've done this several times actually. My hair grows pretty fast ,and so it's not too distressing to cut it short on occasion to donate it.
2.
What song makes you think of summer?
I don't know if there is a song that makes me think of summer. There are plenty that remind me of driving to tennis clinic in the summers though. I hear those songs and instantly thing: tennis! Of course, I can't recall any song titles at the moment to list. haha
3. Are you a
flip flops or sandals kind of person?
I'm a total closed heal and closed toe shoe kind of gal. I do have one pair of sangals and one pair of flip flops, but they are rarely worn. My favorite summertime shoe is the
a Crocs ballet flat
. They're lightweight and the holes give the shoe that sandal effect, but they're still enclosed around my feet so that I don't have to work to keep them on. Interestingly, my husband is just the opposite in that he only wears flip flops. He can't stand closed shoes and will wear flip flops all year regardless of the weather. I suppose opposites do attract! haha
4. F
avorite summer treat (ie ice cream, snow cones, etc)?
I love smoothies during the warm weather months. The cool and fruity flavors compliment the heat of summer so well. Of the options listed in the question, however, I'd have to choose ice cream as my favorite. Though, I have been known to have an ice cream treat while sitting by a space heater in the winter! haha.
5. Do you do something special for the father of your children?
No kiddos, so this isn't an applicable question at this time. We'll see what happens with this holiday when that time comes in the future.
*Note: Some of the products listed above contain affiliate links to Amazon.com. Reviving Homemaking is an affiliate of Amazon.com, and as such receives compensation for each purchase made through the links.
How would you answer today's Five Question Friday? Share in the comment section below!
-*-*-*-*-*-*-*-*-*-*-*-*-*-*-*-*-*-*-*-*-*-*-*-*-*-*-*-