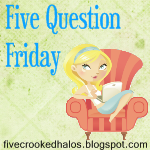 1. How often do you shave your legs in the winter?
I'll confess I usually only shave my legs every other day during the winter. ;)
2.
Valentine's Day cards for your spouse: funny or romantic?
Hubby and I actually don't "do" Valentine's Day. We never have in our relationship, and honestly we're both very content to keep not celebrating the holiday. Instead of fussing over displays of love on the one day, we'd much rather strive to do that each day. To each his own on that though.
3.
What are you most looking forward to about spring?
I love getting to enjoy our balcony during the warmer weather. After two years of having no outlet for being outside, I spend as much time as I can out on our balcony. We lined the perimeter with potted plants last year, and have even more to plant this year. It really is refreshing to sit among greenery and read book, even while living in an apartment!
4. W
hat's your favorite way to pamper yourself?
Bubble bath, candles, reading etc.
5. D
oes your tax return go into savings or do you spend it instantly?
This answer is going to reveal my annoying financial nerdiness.
I'm much much more of a saver than a spender, so no wild shopping trip with the return. Instead,
I like to split all income four ways- savings, living, debt, giving.
------------------------------------------------------