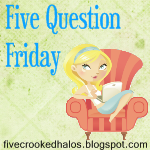 If you are viewing this post via email and cannot see the video, then click here.
1.

What is one grammar issue you cannot let go without correction?
Oh my. I have such a pet peeve of poor grammar. I'm not talking about the more involved elements of grammar. I'm talking about very basic elements of writing such as your/you're, their/there, it's/its etc., subject verb agreements, sentence fragments, incorrect or absent end punctuation, inappropriate use of shorthand, and probably many other examples. \
With that said, however, I will not correct anyone. When it comes to picking and choosing your battles and building or breaking relationships, proper grammar is such a minor issue. I also want to be one who offers grace. Even if I notice faults in people I try to not point them out and in effect just pick at someone. Goodness, I have have faults of my own after all!
(I suppose I didn't answer "one grammar issue," did I? It's all the same to me. haha)
2.
What's your favorite thing about fall?
It's just so cozy! Fall is by far my favorite season. I love the cool days and how they make me want to happily curl up in a warm blanket with some hot cocoa and a good book. I also really enjoy how people are drawn more towards the home and each other without the massive amount of activity that occurs during the summer time. Ah, the delicious tastes of soups and pumpkin flavored everything. How could I neglect witnessing the utmost beauty of changing leaves. It's such a happy time!
3.
What's your favourite dish to take to a potluck?
I don't have a go-to potluck dish. In the past we've tried to bring something that everyone would be familiar with but yet it's different. For instance, instead of standard slaw we made apple fennel slaw and instead of standard sliced bread we brought a loaf of Challah. What we bring to a potluck really depends on the occasion. Whatever it is, though, it will probably involve approaching a familiar dish in a new way.
4.
When do you start Christmas (Holiday) shopping?
I do a majority of my shopping between the end of November to mid-December. I have definitely learned over the last couple of years about waiting too long. For instance, last year I was looking for clothing for my nieces and nephew. I ran into a lot of difficulty trying to find quality pieces that were stylish and affordable. Things were rather picked over and I was rather pressed for time, so I ended up not getting exactly what I had in mind for them. This year I've kept an eye out all year for potential gifts. I think I purchased the first gift back in June and then the second one was just a couple of weeks ago. I'll probably keep looking and purchasing the more difficult finds up until Christmas. I have a soft spot for my nieces and nephew, so I kind of want to get and do for them what I have in mind. As for the adults, they will be easier to shop for later. I love Amazon wish lists!
5.
Did you move homes a lot growing up?
We only moved once when I was ten. We moved about 15 minutes away and in the same county. As an adult, though, I've moved a considerable amount more. I currently live in my fifth city and we're looking to move again in the future. I see moving as an adventure and opportunity to experience different places and people. Fun times! :)
How would you answer this week's Five Question Friday? Leave your responses in the comment section below! Have a good weekend! :)
-*-*-*-*-*-*-*-*-*-*-*-*-*-*-*-*-*-*-*-*-*-*-*-*-*-*-*-