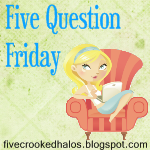 1. Are you a napper?
If I'm completely exhausted, then I will opt for a cat nap out of necessity. If still functional though sleep deprived, then I'll keep going. Attempting a nap when not absolutely necessary will often leave me laying in bed thinking (which when any bit sleep deprived is not a good thing haha). I also tend to dream more during naps, so best not to go there either.
2.
What was your favorite subject in school? Most hated?
I loved science. Well, I loved science until I got to the upper levels in college. Then, not so much. I still enjoy the functional aspect of science which answers that never quenced question of "why?" Currently, I love learning science as it is applied in the culinary realm. Learning the properties of ingredients and how they react with others throughout the cooking process just thrills me (yep, nerd alert. haha).
My least favorite subject has always been history. It just never tickled my fancy and stuck when having to memorize all those dates and names. I acknowledge the importance of learning history and the impact applying such knowledge can have on the future. But I advise that I not be included in any trivia game involving this subject
. You will lose. haha
3. D
id you have the something old, new, borrowed and blue at your wedding? What were they?
Hubby and I did a getaway wedding with just the two of us. There wasn't a whole lot of ceremony, tradition, or fuss, which is part of what we wanted. Consequently, the whole "something old, new, and blue" was skipped. I haven't missed having a big event or all those details too much. In the end, we're married! :)
4. W
hat one thing are you determined to do this summer?
I'm working on being more diligent regarding regular posts on the blog and adding many more items to the Etsy shop. I really enjoy finally getting to let the creative kid in me out and connecting with others on a similar path. I could do this any time though.
I suppose when school breaks are no longer (or yet to be) a part of life, establishing summer plans or goals just gets washed into daily life throughout the year. I still make goals with deadlines for myself though. haha


5. Ice cream or Popsicles?
Ice cream! There is no other choice. Love ice cream. I have a few fun ideas floating in my head of fun flavors and ingredients to try out with our home ice cream maker. I could eat ice cream daily and not get bored of it. I blame my bowl-of-ice-cream-before-bed upbringing, but I'm not complaining! haha
How would you answer today's Five Question Friday? Share in the comment section below!
Linked up at: My Little Life
-*-*-*-*-*-*-*-*-*-*-*-*-*-*-*-*-*-*-*-*-*-*-*-*-*-*-*-